You know I look forward to this day all year but I can honestly say this was the best Oscars in a long time. Ellen just killed it and I laughed so hard. I was also moved by many of the acceptance speeches and the montages were especially great. Those are my favorite, by the way. Anyone know if you can watch those online somewhere? That would be awesome.
We did an Oscar ballot, as usual, and this time I tried really hard to vote for who I thought would win, instead of who I wanted to win. I actually got all the major categories correct! Still couldn't beat my dad, though, who got 18 right. 18!
Decision time. I always want to vote for who I love but I never win that way.
6 for 6 in the major categories. I got 15 overall, I think.
Here are my highlights:
---Matthew McConaughey. I am so impressed with this dude. I'll admit, I was not a fan of his one note acting style and always present accent but I have since grown to admire his zest for life and passion for great parts. I loved his acceptance speech for all its rambly, cheesy bits.
--Lupita Nyong'o. First of all, can we talk about how gorgeous and stunningly luminous she is? Unreal. But seriously, this girl is talented and smart, gracious and lovely, and refreshingly grateful for the good fortune that has come her way.
--Ellen's bits. Especially this one.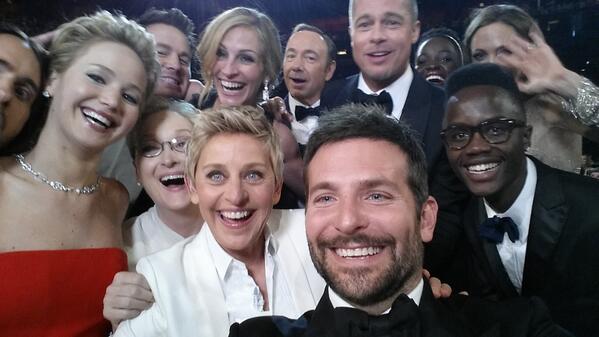 It delighted me to no end to see these movie stars having fun and being goofy. I live for this stuff. Also Lupita's brother is the cutest ever. I think I would be fine if Ellen, Tina, Amy, and Jimmy just hosted everything forever and ever.
--Idina Menzel singing "Let It Go." Even thought the song and the movie is awesome, it bugs me that people know her as the voice of Elsa from Frozen and not from Wicked or Rent. I mean, she's Elphaba, come on! I can't believe I missed the John Travolta debacle. I think I was consulting my ballot or something because I had no idea what the fuss was all about. Totally loving all the memes and name generators now.
--Pink and her ruby red dress. She sang beautifully and I am so glad to know that she can still sing on the ground and not only while hanging upside down.
And now, the gowns. Cause really, that's what you came to see, right?
Emma Watson
I love the metallic bodice and relaxed feel.
The red lip is a great pop of color and the accessories are fun and young.
Jennifer Garner.
The dress is fun and different and looks amazing on her.
Her makeup and hair also look great.
Jennifer Lawrence
This color is so stunning on her and the shape is fun and unexpected.
I love her haircut, but not styled like this. It's too old.
Portia De Rossi
I love the laser cut detailing and the halter shape.
Sandra Bullock
This color is so beautiful and I love how glamorous the whole look is.
I wish her hair was less stiff but overall it looks good.
Kate Hudson
This look is killer. She looks like a million bucks.
Her hair and makeup are spot on and I love the draping in the back
These ladies are my top two and I really can't choose. And way to go, Entertainment Weekly, for both calling the awards and predicting the exact shade of dresses.
Cate Blanchett
The color and delicate beading is just exquisite.
Her hair and makeup are gorgeous and I would just add a darker lip color.
Lupita Nyong'o
She really stole the show with this stunning gown.
The color is fresh and vibrant and her minimal accessories are just right.
[smart choice forgoing a necklace!]
What did you think? Did you enjoy the show? What was your favorite dress?